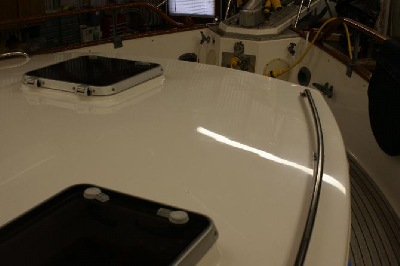 I have always enjoyed doing washdowns. I actually pride myself
on doing very good exterior cleaning. When I clean the exterior of
a yacht, I usually wash all the exterior fiberglass surfaces. I also
clean the non-skid deck with a non-skid deck cleaner. I than clean
all the accessible exterior metal surfaces. Next, I usually wipe down
all the vinyl cushions with a vinyl cleaner and conditioner. Finally,
I clean the cockpit glass.
Some of the products that I have enjoyed using include Shurhold
cleaning supplies, Mermaid boat soap, Citrus boat soap, Starbrite
deck cleaner, Simple Green, 3M Cleaner Wax, 3M vinyl cleaner,
vinegar, tooth brushes, cleaning mitts, absorber chamois, chamois
sponges, chamois mops, terry cloth towels, micofiber cleaning
cloths and paper towels.
I have always felt that many people know how to wash a boat,
but when I wash a boat, the boat really shines.