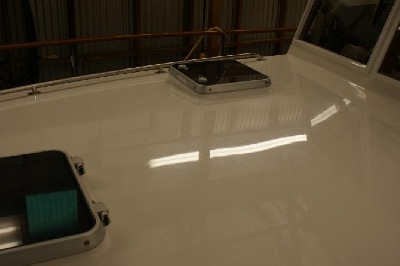 I love to buff and wax yachts. The reason I love buffing and
waxing yachts is that I get to work on the yacht for a week or
longer, rather than just a day.
Some of my thoughts on buffing and waxing a yacht are to use
the right product, be careful and cautious, commit yourself to doing
a great job for the customer and be willing to provide lots of your
time and energy.
Some of the products I have enjoyed using in the past include
3M Rubbing compound, 3M Restorer wax, 3M Cleaner wax, Sea-
power Cleaner wax, 3M Imperial compound, 3M Finesse-It glaze
and 3M Liquid wax. I have also purchased and used other products
like Fiberlay Aqua Blue 200, Farelca Profile 200 and 3M Paste wax.