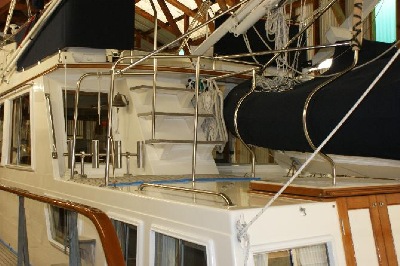 I have personally found that cleaning canvas and enclosures can
take some time. With a flybridge enclosure, the canvas and enclosure
might be hard to access. Also, if the flybridge enclosure has twelve
individual panels, than you have to take the twelve panels down,
clean both sides of the twelve panels and then put everything back
together.

I have cleaned a few tenders. Again, I have found that doing a really
good job can take some time. I usually first wash the tender with
boat soap to remove any loose dirt. I than clean the inflateable tubes
with the appropriate inflateable boat cleaner. Next, I might clean
the fiberglass hull with some cleaner wax. Finally, I might clean
the plexiglass and also wipe down the vinyl cushions with some
vinyl cleaner and conditioner.

Please continue to the next page