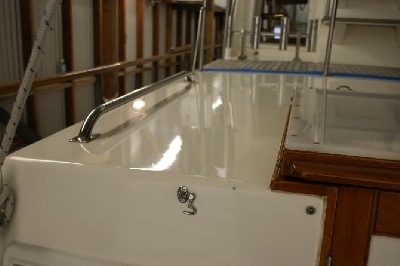 I have cleaned some teak, but am not a teak cleaning specialist.
The pieces that I have cleaned have tended to be smaller areas of
teak. When cleaning teak, you normally thoroughly wet the surface
area first, apply the teak cleaner and than let it sit for awhile. You
then scrub the teak surface across the grain. You're never suppose
to scrub teak with the grain. Because you never want the cleaning
solution to dry, you also always want to rinse the area thoroughly
afterwards with fresh water. Also, if the area around the teak deck
has a lot of hatches, you also want to thoroughly rinse all the tracks
of the deck hatches as well. Next, you apply the teak brightener.

I have cleaned a few engine rooms. Again, I have found with cleaning
engine rooms that it can take some time. My approach with cleaning
engine rooms is to get some buckets and than pump the oily bilge
water into them. I would then take the buckets to an oil recycling station.
Next, I would clean the rest of the bilge with some combination of paper
towels, rags, bilge cleaner and Simple Green.